Here is a great blog from Pierce Manufacturing! Check out their website for more great blogs and information. https://www.piercemfg.com/pierce/blog
Summer offers unique fire prevention and control challenges, and it's also a critical time for preventative maintenance and fleet management as firefighters and apparatus strive to stay cool.

There are simple steps to follow to ensure a fire truck cooling system remains in good working order and any service needs are addressed before the hottest time of the year.

Pierce Manufacturing offers a full complement of aftermarket and product support and service, helping keep your apparatus in good condition when it's needed most. Here are some tips to keep your fire truck cool and efficient this summer.
1. Initiate a Summer Inspection and Preventive Maintenance Program
Preventative maintenance, equipment training and parts management are essential to the value and longevity of a fire truck. Establishing a preventative maintenance program is key to fleet management and it's important to inspect all fire truck parts seasonally.

As you prepare for hot summer weather, here are the critical components to inspect and repair to keep your fire apparatus in top working condition:
Belts and hoses: Be sure to check the fire truck's cooling and alternator belts for wear and proper tension. Incorrect belt tension can be especially damaging in summer because it causes the alternator to work harder, creating more heat and increasing the likelihood of overheating. Check the hoses and the radiator cap as well.
Fluids: Check the firehouse bays regularly for any leaked fluid, including brake, transmission, coolant, transfer case and oil.
Cooling system: The cooling system is especially vulnerable in summer. A small amount of fluid loss is normal, but the coolant should not fall below the minimum line. Coolant level should be checked and maintained within the sight glass near the top of the radiator. Refer to the chassis manuals for proper coolant and levels. If it does fall below the minimum line, check carefully along the hoses and lines for leaks or stains. If you don't find a leak, refill the reservoir and check back often to make sure you're not losing fluid. It is also important to remember that air flow is an essential part of the cooling system. The air intake and front grille opening should not be blocked or covered in any way by items not installed at the factory.

If you notice any irregularities with your fire truck's cooling system, belts, hoses or fluids, consult your vehicle manual. Pierce Manufacturing provides all manuals and fleet maintenance requirements online at pierceparts.com, helping vehicle operators identify the source of any leaks with 24/7 access to fleet maintenance information about their unique vehicles. If your truck requires service, Pierce offers prompt service and a vast inventory of spare parts to get your apparatus back in operation.

As a leader in fire apparatus manufacturing, Pierce Manufacturing offers the highest quality of aftermarket and product support. When a fire department chooses Pierce, they will experience service excellence through the life of their apparatus, including replacement parts and parts support, training programs for apparatus operation and maintenance, and 24/7 technical support.
2. Know Your Gauges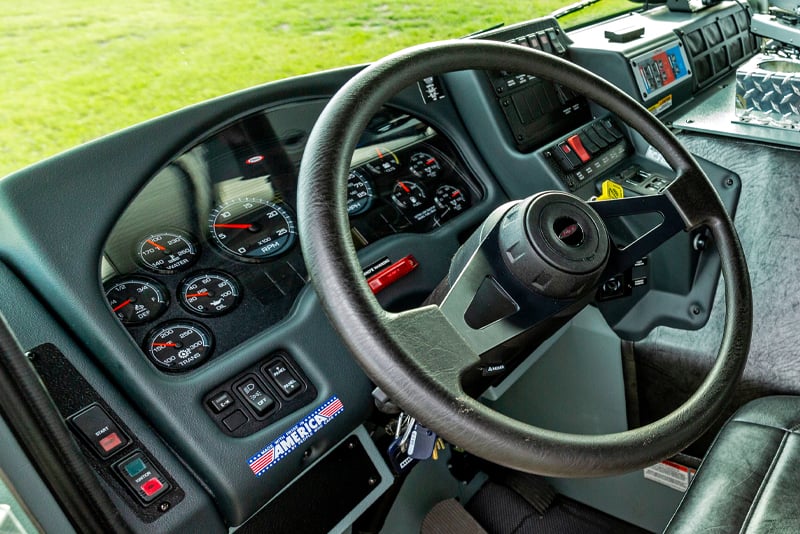 It's It's important to get to know every detail of your fire apparatus, and that includes paying attention to all of the gauges. The temperature gauge is critical to ensure that the engine is cooling properly.

Get to know the normal temperature range for your engine by reading the training manual and noting the temperature often and in varying conditions.
A significant shift in temperature indicates the cooling system needs attention. Other gauges to note are voltage, transmission temperature and oil pressure.
3. Know Your Engine
One of the main concerns about fire apparatus in summer is overheating. It's important to know if your engine is prone to overheating, and if so, check to see if it requires service.https://www.piercemfg.com/pierce/blog/fire-truck-engine-choice

Along with the Cummins line of engines, Pierce has partnered with PACCAR engine company to offer the PACCAR MX-13, a first-class engine for custom fire apparatus.
The MX13 engine offers maximum reliability with the backing of the exceptional service teams at Pierce Manufacturing and through Pierce's network of dealers.
4. Use the Proper Coolant
Check the manufacturer's requirements to ensure the proper coolant and mixture of water and coolant in your cooling system. Engine compatible ELC (extended life coolant) should be used when adding or changing coolant. Using the right coolant and mixture will provide protection in the hottest conditions.
5. Choose an Enhanced HVAC System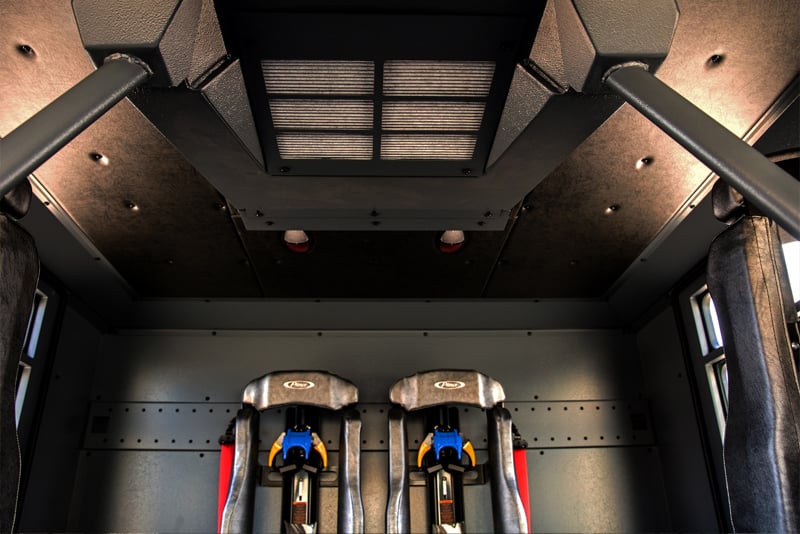 Pierce's new heating, ventilation and air conditioning system is more efficient than previous systems. Improved climate controls are similar to those in an automotive vehicle, allowing operators to control fan, temperature and air flow.
The new defog and defrost capabilities quickly clear the windshield and side windows. The system offers a wider airflow pattern across the windshield, allowing occupants to better maintain a comfortable environment and keep the windshield clear.
6. Don't Overload Your Fire Truck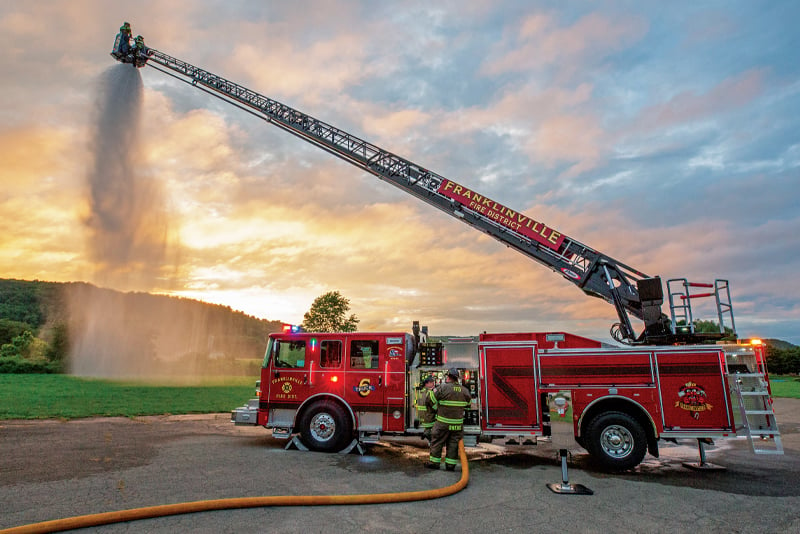 Pay close attention to your truck's gross vehicle weight rating. Overloading your truck forces the engine and cooling system to work harder, which can lead to overheating and engine damage. Contact Pierce product support if you are unsure of your apparatus' weight rating.

In addition, smart and strategic compartmentation will help you stay within the weight rating. Heavy and frequently used equipment, such as extrication tools and ladders, should be placed low, while lighter tools or tools used less frequently should be placed higher up.
Efficient compartmentation can also save critical seconds during a fire response. Make sure every part has its place through dedicated equipment locations, mounting brackets, pull-out trays, pegboards, swing boards and strategic equipment loading.

With careful inspections, preventative maintenance, correct use of equipment and efficient use of space, you can keep your fire apparatus running smoothly and cool all summer long.

If you have any questions about your fire truck's cooling system, please reach out to Reliant Fire Apparatus!